S&P 500 Falls for a Third Straight Day to Close Out Losing Week as Stimulus Uncertainty Remains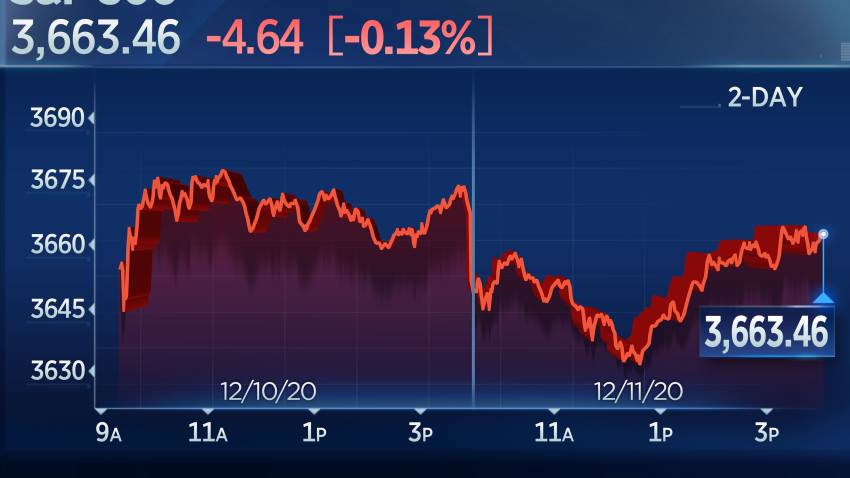 The S&P 500 fell on Friday, wrapping up a losing week, as the outlook for additional fiscal stimulus remained uncertain.
The broader market index pulled back by 0.1% to close at 3,683.46, and the Nasdaq Composite dipped 0.2% to 12,377.87. The Dow Jones Industrial Average eked out a gain of 47.11 points, or 0.2%, to 30,046.37 as shares of Disney rallied.
Both the Dow and S&P 500 posted their first weekly declines in three weeks, losing 0.6% and 1%, respectively. The Nasdaq dropped 0.7% this week.
Friday's moves came as negotiations over a coronavirus relief deal dragged on. Lawmakers seek to pass a bill before the end of 2020, but disagreements over state and local stimulus, unemployment assistance and stimulus checks still exist.
"Optimism surrounding a near-term fiscal stimulus deal are fading despite reports of a bipartisan deal, as the sides can agree on the size of a deal, but not the details," wrote Mark Hackett, chief of investment research at Nationwide.
Democrats have also pushed back against the White House's latest $916 billion aid offer, noting it doesn't include any additional federal unemployment insurance money. The bill, however, was blessed by GOP congressional leaders.
The House and Senate passed a one-week federal spending extension to avoid a shutdown through Dec. 18 to buy more time to reach a stimulus agreement.
"The inability for Washington to enact more fiscal aid is a complete failure. We know where the differences lie," wrote Gregory Faranello, head of U.S. rates trading at AmeriVet Securities. "Right now this is about cashflow and saving businesses and helping keep individuals afloat while we rollout the vaccine."
Share of companies hardest hit by the pandemic recession fell on Friday. Carnival dropped 4.5%, United Airlines slipped 2.6%, and Gap lost 3.6%. Hyatt Hotels traded lower by about 1.4%.
Tesla shares, meanwhile, fell 2.7% after a surprise downgrade by Jefferies.
Without fresh stimulus, millions of Americans could lose unemployment benefits in the new year. Meanwhile, weekly jobless claims jumped last week to 853,000, the highest total since Sept. 19, as new lockdown restrictions weighed on businesses amid rising coronavirus cases.
Sentiment was downbeat on Friday even as a key Food and Drug Administration advisory panel recommended the approval of Pfizer and BioNTech's coronavirus vaccine for emergency use. The recommendation marked the last step before the FDA gives the final approval to broadly distribute the first doses throughout the U.S.
Bucking the negative trend was Disney. On Thursday, the company said its Disney+ service has 86.8 million subscribers and expects have between 230 million to 260 million subscribers by 2024. The stock rose 13.6% on Friday.
Read more at: https://www.nbcboston.com/news/business/money-report/stock-futures-flat-as-stimulus-deal-remains-unresolved/2254419/
By: Fred Imbert
Copyright © CNBC